I feel like I've told my story about how KPC Bookkeeping came to be about a million times, but when I searched my website I didn't see it anywhere!
And maybe you don't really care -after all, you haven't unsubscribed yet without knowing my story yet, have you? 😜
Well, I'll tell it to you anyway, in case you're curious.
I didn't start out in bookkeeping, or in any type of accounting role. In fact, I was an Executive Assistant for 15 years in a variety of industries, most recently at a hospital. We were in the midst of a pandemic AND a malicious cyberattack that held our networks hostage for WEEKS, so we were all running around like chickens with our heads cut off. I was at the end of a long shift and completely stressed out – the perfect recipe for mistakes – and I smacked my head on an open drawer of a filing cabinet.
It wasn't until a few days later that I started feeling sick, nauseous and dizzy, and finally went to the doctor and got diagnosed with a concussion.
He told me I needed to take two weeks off of work and do essentially nothing – no computer, phone, tv, or any kind of physical or mental brain stimulation. At the time that felt impossible – TWO WEEKS? In the middle of not one but TWO crises at work? – but little did I know that this was nothing compared to the years ahead. Because this little bump on the head developed into post concussion syndrome, which basically means that some basic neural pathways are severed and have to find their way to reconnect. In the meantime, your nervous system is on high alert so most kinds of stimulation cause severe symptoms like headaches and migraines, dizziness, nausea, and troubles with memory and concentration. After months, I still couldn't tolerate being on a computer for more than 20 minutes at a time, and my FMLA had run out…so I lost my job!
I like this quote I found on pinterest, it really spoke to me as I was trying to dig myself out of this hole, where I was in so much physical and emotional pain.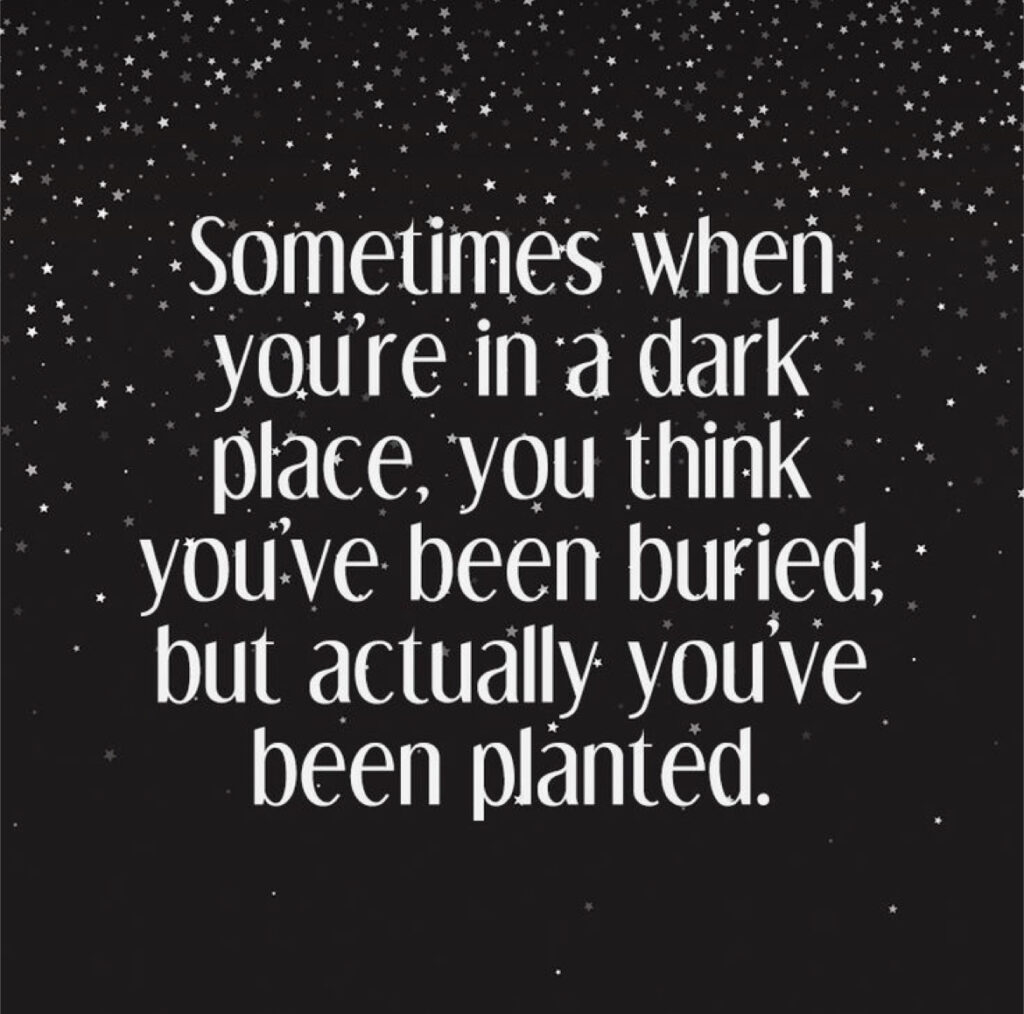 Healthyplace.com
Because this crazy freak accident and its crazy freak outcome and all the pain and uncertainty and fear was actually the best thing that ever happened to me, because it led me down the path of entrepreneurship that I never even knew I was meant for.
I'm someone who tries to focus on the positive, everything happens for a reason, etc., but I was having a ton of anxiety, both caused by my situation and exacerbated by my condition, and one of the things I did to cope – one of the only things that didn't cause me pain – was baking. I started baking every day and then I ran out of people to give them to to get them out of my house, so….
I started a little home cookie bakery called Coble's Cookies – my first business.
Now, the baking part was fun (at least at first), but it was about more than that. I realized I like being able to call the shots, to be able to say yes or no to a last-minute order, to feel good going above and beyond but also to make my own rules and set my own boundaries without fear of judgment from bosses or coworkers. In short, I learned not only that I COULD be a business owner – something I was always too risk-averse to try and didn't have the confidence that I would even like – but that I was actually MEANT to be one.
Coble's Cookies didn't make me any money, really, but it didn't have to. It was just something to do, and another brick in the path. Because the reason I knew that it didn't make me any money was that I kept the books for it, and I realized that I was one of those freaks that found this part of running a business just as enjoyable as the baking itself! I was talking to a friend about that and he suggested I start taking on other people's books, and it really sparked something in me. So I started doing my research about freelance bookkeeping as a profession and really liked what I found, and then I was off to the races!
So…after losing my job and feeling completely powerless, not sure of what was going to become of me because of the flexibility I needed to accommodate the post concussion syndrome, and then getting this small taste of business ownership, I decided I never again wanted to be in a position where I was at the mercy of any other person. I wanted to continue to be my own boss, make my own rules, and do the things that excite me. I wanted my hustling to benefit me instead of someone else.
And I wanted to help other women do the same thing.
So this is how KPC Bookkeeping was born. As you might know, I work exclusively with women-identified solopreneurs and microbusiness owners like you to not only clean up and maintain their books, but to go deeper to talk about the meaning behind those numbers – not just financially but also emotionally. I advise based on in-depth numbers analysis, but also based on my client's values and goals, to help make good business decisions that also feel good in their souls, and cheerleading all along the way.
And because of this deeper relationship with my clients, I was hearing the same things over and over: the fear of failure and the fear of success, the imposter syndrome, the intimidation of the money world, the millions of expectations foisted upon us by society and by ourselves, the guilt of having money or wanting money because we're supposed to serve and give and give and give until we have nothing left. The shame of debt, or of not knowing all the things I'm going to teach you in this course. It's..a lot. And I just don't think it should be this hard!
So it's a big mission of mine not only to educate women on business finances, but to do so in a shame-free, empowering way.
Because even if you aren't ready to hire a bookkeeper, you still deserve to have the knowledge and confidence to run a healthy, profitable, business that brings you joy. You deserve to feel secure and abundant. You deserve to have the freedom of being your own boss, and to give yourself a damn break and be kind to yourself!